HOW TO FIND YOUR RING SIZE
To measure an existing ring, you already own.
1. Select a ring that fits the intended finger comfortably.
2. Measure the inner diameter of the ring.
3. Match the measurements to chart below.
Alternatively to get the most precise measurement go to any local jeweller and ask to have your finger sized.
All sized in AUS/UK sizing (alphebetical)
XS (J-K) Sml (L-M) Med (N-O) Lrg (P-Q) XL (R-S) XXL (T-U)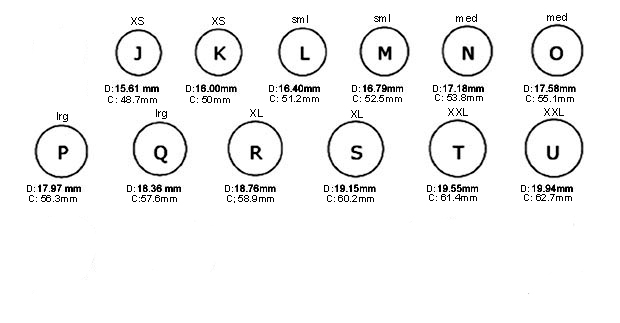 HOW TO MEASURE FOR A

BANGLE

( not cuff )
Bangle sizing focuses on the hand size rather than the wrist size, the bangle does not open therefore it must fit over the wearer's hand.
Lay your hand comfortably on a flat surface (do not spread fingers wide). Be sure to measure the hand on which you intend to wear the bracelet.

With a ruler, measure the distance from the center of the first knucle (index finger) and the center of the fourth knuckle (pinky finger).